Featured Event: South Dakota Technology Showcase
The fourth annual South Dakota Technology Showcase will be held on Thursday, September 26 at the Sioux Falls Convention Center.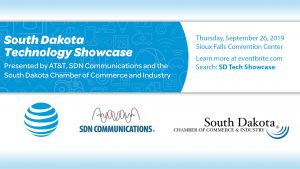 The event was originally the brainchild of AT&T Northern Plains States. 
"When we started the South Dakota Tech Showcase in 2016, our goal was twofold: to highlight the emerging technological innovations in South Dakota and bring together the brightest minds to help forge policies that would keep the state on the cutting edge of technology," said Cheryl Riley, president of AT&T's Northern Plains States. "Four years later, we're very proud to continue promoting the burgeoning tech advancements and new ideas coming out of South Dakota."
SDN Communications and the South Dakota Chamber of Commerce and Industry partner with AT&T to organize the event, which exists to feature South Dakota's unique technology landscape.
Emerging technologies in South Dakota
According to Nikki Gronli, marketing specialist for SDN Communications, South Dakota has been a longtime innovator and early adopter of technology.
"We have very progressive leaders in our communities who do a great job of communicating and figuring out what they can do to make things more efficient here," Gronli said.
Gronli attributes some of this innovative attitude to the state's geography.
"We often have to look for unique ways of accomplishing the things we need to do, and tech allows us to do that," Gronli said. "If there's an opportunity to take on new technology that makes life more efficient and easy, we're willing to jump into that."
The rural, isolated nature of some parts of the state, in addition to a variety of environmental factors, provide an inspiration of sorts for companies and innovators who are actively seeking solutions to these challenges. 
"We still have areas of South Dakota that lack broadband coverage due to environmental issues like the quartzite in the ground or the miles it takes to get to some of the ranchers," Gronli said. "But we've got a number of independent telephone companies and we have large providers like AT&T that are working very hard to find solutions to get broadband to everybody."
Another technology solution gaining ground in South Dakota is telemedicine.
As rural communities struggle to employ doctors and nurses, the capability to video conference with healthcare professionals offers a powerful solution.
"If you're able to connect with organizations like Avera and call or video in to discuss your symptoms, you can receive care in communities where doctors and nurses are harder to come by," Gronli said. 
These are just a few examples of the types of issues and solutions covered at the showcase.
Each year, the showcase has a general theme. This year's focus is smart technology and automation.
"We're going to start seeing more automation," Gronli said. "Although it may seem threatening, we know there's going to be a shortage of people working in cybersecurity, IT, and the types of jobs that are going to support automation, and those jobs are going to grow."
Who should attend the SD Technology Showcase?
The showcase is targeted toward entrepreneurs, business leaders and elected officials.
For entrepreneurs and business leaders, Gronli says the event is all about inspiration. For elected officials, it's about education. 
"We look at it as an exchange of ideas," Gronli said. "We hope that they're able to take back information that allows other communities to grow, and that we're educating them on legislative issues. Things will come out of this that they will need to deal with, and we want them educated so they can make wise decisions."
The event will consist of a combination of panel discussions, presentations and audience interaction. Gronli says each presentation will end with a Q&A session to allow individuals the opportunity to get the information they really want.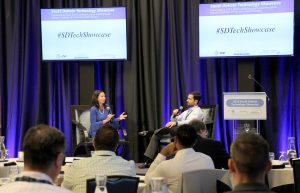 The speaker lineup—which can be viewed here—features voices from local businesses and organizations, including the City of Sioux Falls, Farmer's Business Network, Raven, and Dakota State University, among others. 
"We look for those speakers that are leaders in their field, and those leaders may be in a small startup or a large corporation," Gronli said. 
A keynote presentation will be given by Jennifer Fritzsche, Managing Director of Wells Fargo. Fritzsche was recently recognized on Data Economy Magazine's list of the world's 50 most powerful women in the data economy.
Her presentation is titled, "Wall Street View of Wireless Infrastructure Sector."
"She is a technology futurist," Gronli said. "She's looked at as an expert in business technology. They go to her for anything from what she thinks stocks are going to look like to where she thinks technology is headed."
Attendees can hear look forward to engaging discussions from Fritzsche and the rest of the lineup on September 26. The showcase runs from 8:00 a.m. to 1:30 p.m., and tickets are available for $30.00. 
Two Things You Can Do This Week: