Organization Focus: DRACO
While pursuing an advanced degree in biomedical engineering from the University of South Dakota, Eric Sandhurst noticed a startling lack of job opportunities in his chosen field. 
Simultaneously, he was surprised to see a stark mismatch between the amount of dollars being funneled into Sioux Falls' biotech scene and the amount of students leaving the state after graduation. 
In April 2016, Sandhurst had the opportunity to meet with students from Washington University in St. Louis who had started their own consulting group, Biotechnology and Life Sciences Advising (BALSA). The organization allowed students to gain real-world experience, while providing local businesses and startups with valuable and affordable assistance.
After meeting with BALSA, Sandhurst knew South Dakota needed a similar resource of its own. 
Together with three fellow graduate students, Thomas Vierhout, Jevin Meyerink, and Menno Van Diermen, Sandhurst formed his own consulting group in September 2017, modeled after BALSA, but uniquely designed to meet the needs of the biotech sector in South Dakota.
Dakota Research and Consulting Organization (DRACO) is a graduate student-run consulting group, with a focus on biotech.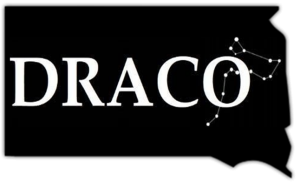 DRACO benefits from having founding members from multiple universities, allowing them to connect students and clients with resources across the state. Meyerink, a graduate student at the School of Mines and Technology, leads several projects from Rapid City that have a statewide impact.
What started out as a side project for Sandhurst and his colleagues has quickly taken off and created a unique outlet for both students and businesses.
"We wanted something that would bring us closer to the biotech sector, and we wanted to be the connection for students," Sandhurst said. 
While Sandhurst and his colleagues act as project managers for their clients, other graduate students are encouraged to join the team and produce deliverables.
Who does DRACO work with?
DRACO's services are targeted toward early-stage technologies, independent entrepreneurs and academic researchers, all areas Sandhurst says traditional consulting firms are less likely to work with.
Because of this, DRACO remains an affordable option for early-stage businesses or startups.
"Other consulting groups generally need the technology to be further along, so our fee is really low compared to other firms," Sandhurst explained.
Though the timelines of DRACO's consulting projects vary, Sandhurst says most projects are structured on a six week timeline. 
"We'll meet with the client and discuss their technology and their personal goals, and then we'll come up with a specific objective," he said. "We don't want to overburden our students."
Deliverables could be anything from a grant proposal to prototyping, drafting, or design work. 
DRACO's wide range of services is a benefit of its student-run structure. Sandhurst and his colleagues encourage talented students from a variety of disciplines to work with them.
"We rely on the talents of our student members," Sandhurst said. "The tagline we came up with is, 'Where the science of business meets the business of science.' So where some consulting firms will work only on technology development or business development, we bring it all together."
The benefits go both ways, however. Students working with DRACO gain not only valuable project experience, but premier connections and relationships for their future endeavors.
"If we want the biotech sector in Sioux Falls to grow, and the city wants to attract biotech businesses, we need students that can fill these positions," Sandhurst said. "We foresee both homegrown companies as well as transplant companies in need of graduates with all levels of expertise. Therefore, we want to provide an experience that brings together those interdisciplinary groups to work across disciplines as well as skill levels."
Get involved 
Even if you're not involved in the world of biotechnology, DRACO has an event coming up in the next few months that will be open to the public.
In partnership with Zeal and Secure Electronic Asset Management (SEAM), DRACO is hosting a technology drive called Re:Boot Sioux Falls. The public can donate old computers, and SEAM will securely remove the previous owners' data and refurbish the machines for future use. 
Area nonprofits have applied to receive some of the refurbished technology. After the items have been awarded, DRACO will lead a series of tech literacy workshops open to the populations served by each of the selected non-profits. Information regarding the workshops will be available via Re:Boot Sioux Falls.
Donations run from November 4 through the end of 2019. Further information regarding acceptable donations and drop-off details can be found via Zeal. 
Two Things You Can Do This Week: